Thousands of Android tablets and smartphones have been infected with
malware
and turned into a giant spam botnet, it's been reported today. Researchers have discovered that spam emails are being sent from dozens of tablets and smartphones using Android, all of which have come via
Yahoo mail
, promoting fake Viagra and other pharmaceutical drugs.
iAndroidtablet.com
, the leading online news and updates site for Android tablets, today revealed that the cyberattacks on Android devices are almost certainly being carried out using a new form of malware.
Researchers from the
Sophos
internet security firm, which first discovered the botnet, have previously unveiled similar Android malware that sends out premium rate text messages without users knowing. However, this botnet malware is believed to be something new, having never been seen before on
Android devices
.
It's believed that the malware comes from pirated copies of
paid apps for the Android
, which have been infected with some kind of
Trojan virus
, explained iAndroidtablet.com. The
spam email
is very sophisticated, with many of them featuring animated graphics.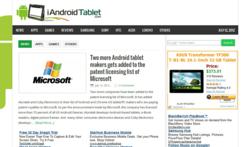 Spam emails from Android tablets have originated from several places in the world, including Argentina, Jordan, Pakistan, Russia and the Ukraine.
It would appear that the malware does not come from apps on the official Google Play app store, but rather from third-party download sites which allow users to get pirate copies of paid applications free of charge.
Dan Lim, editor of
iAndroidtablet.com
, cautioned users to be very careful when downloading applications from third-party sites, and warned against downloading pirated apps of any kind:
"Users should exercise extreme caution when downloading applications from anywhere except the official Google Play store. We appreciate that many tablet owners are tempted to visit unofficial sites to access paid apps for free, but we would urge them to reconsider doing so."
"Given the damage that this malware can cause, it simply isn't worth saving a few dollars on the cost of a download. What's more, downloading pirated apps of any kind is illegal in many countries."
Dan added that users need to be especially wary of threats to the
Android platform
, given an estimated 93% rise in the number of malware incidents over the last 12 months.
About iAndroidtablet.com
iAndroidtablet.com is the leading online news and updates website for Android tablet devices, providing regular updates on all the latest gossip, rumors, leaks and updates in the tablet industry. With regular updates for all the popular Android tablet brands, including Samsung, Motorola,
HTC
and more, it's the number one choice for thousands of Android users across the world. For more information, visit their website at
http://www.iAndroidtablet.com
.
Partner Links:
1.
Patio Cover Repair Company Houston Tx
Houston patio covers is committed to providing houston residents with the best built patio covers that money can buy. We have more than 400 different patio styles to choose from or you can specify your own plans! 2.
Bathroom Remodel Companies Sugarland
Houston bathroom remodeling has one of the most extensive library of bathroom remodeling plans and pictures in the entire nation. We want to you to get the bathroom you have always dreamed of - and you can! Call us today for a free consultation!
3.
Find Your Net - Free Brochure Printing
This is a free service for brochure printing. Fill out the form below and you will be redirected to a print page for your brochure. Make sure you set up printer to have no margins. That is zero margins all around. 4.
Kitchen Counters Houston Tx
Add value to your houston home by installing a granite countertop. A new granite countertop can transform your kitchen, adding a luxurious new look while also providing scratch and heat resistance. We are houston granite countertop experts!